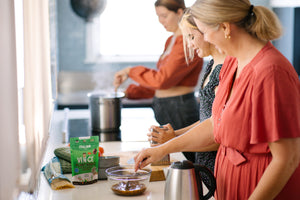 Veggies for the Whole Family
Our family loves food! As a chef, I believe that food should be healthy and tasty.
As busy parents to two girls, we understand how life can get hectic, and finding ways to get our kids and family eating more veggies can be challenging.
I have created Vince in three great flavours loved by our kids and family, so you can tackle a range of meals with confidence.
Learn more about how to get more veggie goodness and supercharge your everyday family favourites like Bolognese, Nachos, Shepherds Pie and Mince on Toast.
Vince Story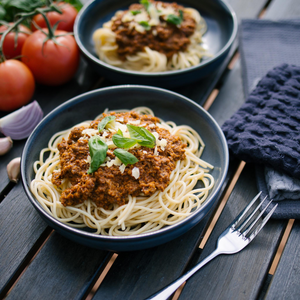 Veggie Goodness
Vince gives you approx FIVE daily adult servings of Veggies in every pack making it the easiest way to sneak loads of Veggies into any meal!
Veggies are 80% water, we slowly remove the water using a low temperature solar power driven process, retaining and concentrating the goodness and flavour.
Scientific studies show that Slow-Dried veggies retain almost all of their goodness without the carbon cost of frozen food or the food waste of fresh, making Vince an easy choice for the environment.
Vince is very high in Fibre, which is great for weight regulation and healthy tummies. Each bag has less than 1g of saturated fat, less than 2g of added sugar (coconut) and contains loads of B vitamins, potassium, calcium and vitamin K.
Easy Recipes
Making Meals Easy
It has never been easier to include this many veggies in one meal.
No peeling, chopping or grating just add water and pasta or rice and eat. Or combine with beef mince for Veggie goodness by stealth.
My husbands favourite is Vince on toast with poached eggs and Kaitaia Fire. Another family fav is a quick Vince and Cheese toasty, yum!
Check out the video for yourself and see how simple it is to prepare.
Easy Recipes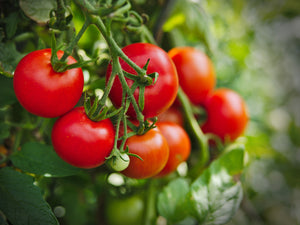 Real Veggies
We make Vince in Northland from fresh garden style veggies, which are grown right here in Aotearoa, New Zealand.
No laboratory ingredients, no preservatives, no sulphites, no highly processed soy, corn or wheat additives. Just honest veggies packed with goodness and slow dried ready for you to create an easy, healthy meal.
Vince is naturally Vegetarian, Vegan, Dairy and Gluten Free.
Oh happy days! Since we switched to being meat free, pretty much the only thing I've longed for is really good nachos! I stumbled across @meetvince this week and immediately ordered... after lightning fast delivery (AH-MAZING right, in these crazy Locky-D times), I whipped up a batch of vince and OMG, JOY! Such amazing service and a fab product! Do yourself a favour and check it out!
LuLu Taylor
The Mexican Vince is so incredibly tasty, with a really good texture and
my family love it! Extremely quick to prepare and it goes so well with Pita
Bread!
Nyree Jones
We tried a bag of the Mexican flavoured Vince this evening for nachos. We were very impressed, good texture and great taste, nice bit of heat from the spices. If my partner had served it up without telling me, I'd have picked it as meat. Generous servings for two from an $8 bag. I can see this being a great option for families with reluctant vegetarians. Well done.
Peter
We absolutely love the Vince mince, it has revolutionized our cottage pies! So so tasty, we love it!
Heather
I've tried a lot of meat alternatives, and yours is fantastic!
Ellie